Hello
We have some clients that when they wanted to upgrade their hosting services they order new hosting .
I think it will be good if add a new link in Action Button and show them upgrade from their group.
after they select their package and submit ; system opens a support ticket for us to follow-up their order.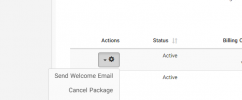 Thanks
Last edited by a moderator: