Introducing Support Pin - Your Ultimate Verification Solution
Hey there Clientexec community!
We're thrilled to introduce our first plugin, "Support Pin," designed to simplify and enhance your support verification process. With "Support Pin," your clients can enjoy a secure and hassle-free way to verify their identity when they need assistance.
What is Support Pin?
"Support Pin" is a user-friendly Clientexec plugin that generates a unique verification PIN for your clients. This PIN allows them to securely confirm their identity when interacting with your support team. It's a quick and efficient way to protect your clients' data and ensure a seamless support experience.
Special Limited-Time Offer!
To celebrate the launch of "Support Pin," we're offering an exclusive limited-time discount. For just $10 per year, you can secure this valuable plugin. But here's the best part: this price is locked in as long as you renew your subscription! That's right; you'll continue to enjoy the discounted rate year after year as long as you renew your subscription.
Plugin Highlights:
Seamless integration with Clientexec.
Easy-to-use interface for both clients and support staff.
Increased security with unique verification PINs.
Prevents unauthorized access to sensitive information.
Enhances client trust and satisfaction.
How to Get Started:
Visit our website and purchase the "Support Pin" plugin for the special discounted rate of $10/year.
Follow the installation guide to integrate it with your Clientexec system.
Enjoy the benefits of improved security and client verification.
Renewal Made Easy:
When your subscription comes up for renewal, you'll continue to pay just $10 per year. No need to worry about price increases.
Don't miss out on this fantastic opportunity to enhance your support process while saving on costs. Secure "Support Pin" today and enjoy the benefits of a streamlined and secure client verification system.
Explore 'Support Pin' for Clientexec - See Details and Screenshots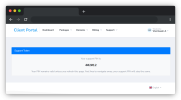 Have questions or need assistance with 'Support Pin'? Feel free to reach out, and I'll be happy to help
Thank you for your continued support, and we look forward to helping you improve your Clientexec experience with "Support Pin"!